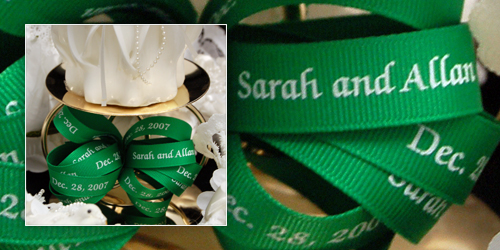 Design & Buy Now: Grosgrain Ribbon

Personalized wedding ribbon, printed with the bride and groom's names and the wedding date, offers a special decoration to a wedding ceremony and becomes a keepsake once the big day has passed. To add a personal touch to a couple's wedding day, tie wedding ribbon in a bow around the base of the unity candle. PrintMyRibbon offers a wide selection of colors for custom ribbon, allowing the unity candle to cooperate well with the theme of the ceremony. The unity candle in this picture features a custom ribbon printed on our grosgrain style. For a shinier look, try our double face satin ribbon.
Printed ribbon can also be used as a decoration for wedding favors. Use custom printed ribbon as a personal accent at a reception by tying a napkin ring around the silverware with a piece of wedding ribbon. For more creative ways to use custom printed ribbon in a wedding, visit our Weddings page.
Begin designing personalized wedding ribbons by selecting a style of ribbon. Custom ribbon orders can be placed entirely online. If you have any questions or need additional service, contact PrintMyRibbon at 1-888-807-6020. Let us know what we can do to make your wedding day memorable.
Wedding ribbon is also great for...
Favor gift boxes
Bridal shower gifts