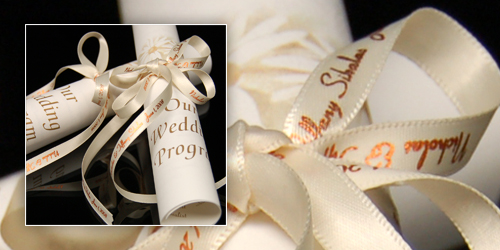 Design & Buy Now: Double Face Satin Ribbon

Personalized wedding ribbon adds a decorative and thoughtful touch to a wedding ceremony. Among its many uses, wedding ribbon can be used to create decorative personalized wedding programs. Design a customized wedding ribbon printed with the bride and groom's names and wedding date. With many ribbon styles, colors, and imprint colors to choose from, you can create personalized wedding ribbons that will match your wedding theme and color ensemble. Individually roll your wedding programs and tie a wedding ribbon in a simple bow around each to hold them together. The result is an attractive program presentation that expresses an added level of creativity and personality.
PrintMyRibbon provides many decorative ribbon styles that are well-suited for a wedding ceremony. Pictured above is double face satin ribbon, a smooth double-sided satin ribbon. We also offer other varieties of satin ribbon, including metallic edge satin ribbon, a satin ribbon with metallic threads woven along the edges.
To place an order for personalized wedding ribbons for your wedding programs, contact PrintMyRibbon at 1-888-807-6020 or select your desired ribbon style and place an order online. Contact us if you have any questions or if you would like assistance designing and ordering your wedding ribbon. We look forward to hearing from you.
Use additional wedding ribbon for...
Favor decorations
Reception accents
Floral arrangements