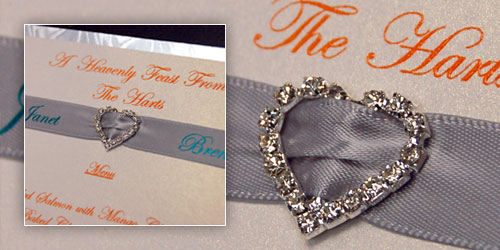 Design & Buy Now: Double Face Satin Ribbon
Personalized ribbon can be used to add a decorative and thoughtful accent to wedding reception menus. This happy couple designed a personalized double face satin wedding ribbon and had it imprinted with metallic ink for an elegant shine. Then they threaded their ribbon through a heart and simply hot glued it around a piece of card stock to showcase their reception menu. This easy project took their wedding menu from ordinary to extravagant and communicated a thoughtful gesture to their guests.
To make your own wedding menu ribbon accent, design a personalized wedding ribbon that matches your wedding theme. Choose from an extensive selection of ribbon styles, colors, and inks to create the perfect ribbon for your special day. Customize your ribbon with the couple's names, wedding date, or a special message.
Select the ribbon style that is right for you and start designing. If you have any questions about our different ribbon styles or our printing capabilities, call us at 1-888-807-6020. We look forward to hearing from you.
Use extra wedding ribbon for...
Wedding programs
Favors & thank you gifts