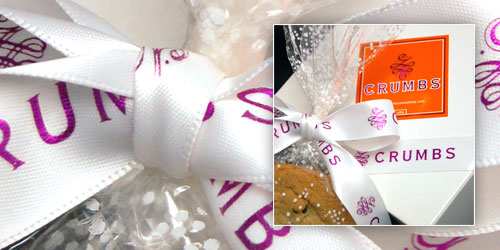 Design & Buy Now: Double Face Satin Ribbon

Package and display your freshly made treats with personalized ribbon bakery box decorations. Whether selling your treats for a business or giving them out as gifts, personalized ribbon adds a finishing touch to a bakery box presentation.
The personalized ribbon pictured on the bakery box above is double face satin ribbon. Silky and strong with finished edges, double face satin is a high quality ribbon great for professional packaging. Choose from a variety of colors and sizes to customize.
To create your own personalized bakery box decoration ribbon, choose your favorite ribbon style. Our convenient online design tool makes it easy to create a customized ribbon. If you'd like any assistance with the design tool or making your ribbon style selection, call us at 1-888-807-6020.
Use extra product ribbon for...
Gift packaging
Corporate events
Website promotion