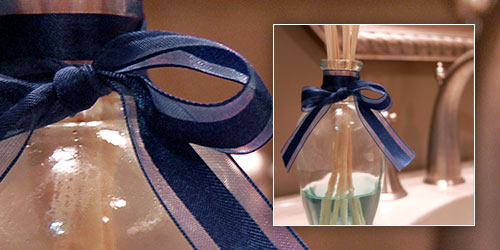 Design & Buy Now: Sheer Edge Garbo Ribbon

Great for gifts and home decor, reed diffusers disperse a fragrant scent throughout an enclosed area. Buying a reed diffuser in a package with fragrance, reeds, and a jar can be somewhat expensive, but buying each of the ingredients individually and putting them together on your own saves quite a bit of the expense.

To make your own reed diffusers, choose your favorite fragrance. Then visit your craft store and buy a small glass jar. You can also find bamboo reeds from a craft store or just use bamboo shish kebab skewers from the grocery store. Once you've gathered your primary supplies, choose some ribbon for an added decoration. The ribbon pictured above is navy sheer edge garbo ribbon.

Send a personal message with your reed diffuser by tying printed ribbon around the top. If you'd like to design your own personalized ribbon, select your favorite style and use our convenient online design tool. Call us toll free at 1-888-807-6020 if you'd like personal assistance designing and ordering your ribbon. For a step-by-step guide to making reed diffusers, read our How-To article.

Ribbon is also great for...