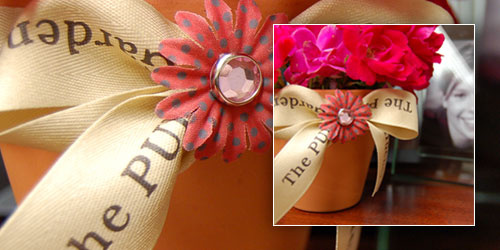 Design & Buy Now: Twill Ribbons

Homemade planters are a simple, inexpensive craft project. Great for gifts and home decor accents, homemade planters can be decorated with printed ribbon, paints, and appliques to create fully personalized flower pots. Decorated planters are also a great way to florists to market their business and give customers a special treat.

Start with a simple terra cotta flower pot. Choose your favorite ribbon, applique, and any other decoration you want to add. When you're finished decorating your pot, fill it up with potting soil and plant your favorite flowers or plant.

If you want to add personalized ribbon to your homemade planter, you can design it online in minutes. Just choose your favorite ribbon style to get started. The ribbon in the picture above is custom printed twill ribbon. If you'd like any help using our design tool or making your ribbon selection, call us toll free at 1-888-807-6020. For further instruction on making homemade planters, read our step-by-step How-To article.

Personalized ribbon is also great for...