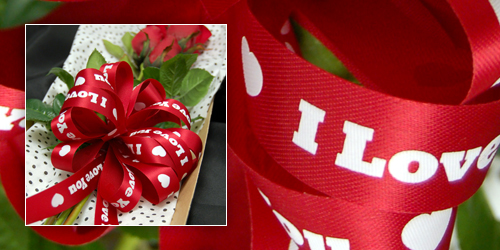 Design & Buy Now: Satin Acetate Ribbon

When sending a message of love through the gift of a flower, use personalized ribbon to help you communicate more clearly. Holiday ribbon offers a decorative addition to a single rose or floral bouquet and also conveys an extra level of thoughtfulness and care to the flower recipient. Pictured here is a rose bouquet adorned with one of our custom printed ribbons. This 7/8" satin acetate ribbon is tied in a decorative Pom Pom Bow.
Valentine ribbon can also be used to package gifts, adding a personal touch to ordinary packaging. Tie a bow around a box of chocolates or a stuffed animal. Read our Bow-Tying how-to articles for tips on creating eye-catching gift bows.
To design a personalized gift ribbon for your floral bouquet, choose one of our styles of ribbon and use our online design tool. Contact a customer care representative at 1-888-807-6020 if you have any questions or would like assistance designing your holiday ribbon or placing an order.
Use extra holiday ribbon for...
Gift baskets
Event decorations