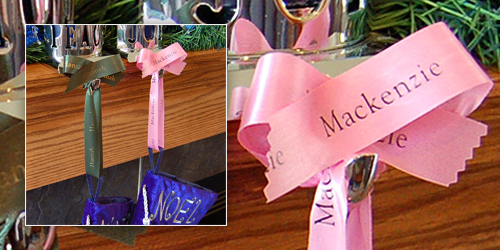 Design & Buy Now: Satin Acetate Ribbon

Holiday ribbon can be used to make creative decorative stocking hangers. The satin acetate ribbons pictured here are custom printed with children's names. These hangers add a decorative accent to ordinary stocking hangers and help children identify and personalize their stockings.
To make ribbon stocking hangers, loop the personalized Christmas ribbon through the stocking loops and tie them tightly over hooks or mantle hangers. Finish the ribbon hangers by tying a bow at the top or simply pulling up two strands of ribbon as pictured so that the name is facing front. Secure the ribbon strands with double-sided tape.
To create holiday ribbon stocking hangers, choose one of our styles of ribbon and design your ribbon online. If you have any questions or would like personal assistance, call us at 1-888-807-6020 and we'll be glad to help.
Holiday ribbon is also great for...
Gift packaging
Craft projects
Holiday parties