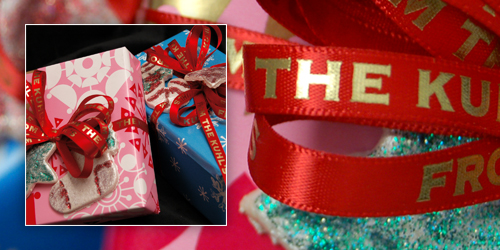 Design & Buy Now: Double Face Satin Ribbon

To enhance holiday gift-giving, use personalized gift ribbon to attach salt dough ornaments to gift packages. The double face satin ribbon pictured above is personalized with a message indicating who has given the gift. This message is coupled with the decorative gift of salt dough ornaments, creating an imaginative presentation and a warm spirit of gift-giving.
Ingredients:
4 cups flour
1 cup salt
1 1/2 cups hot water from tap
2 teaspoons vegetable oil (optional)
In a large bowl, mix together the salt and flour. While mixing, gradually add the water and continue to mix until dough becomes elastic. (If you would like to add the optional vegetable oil, do so at this point.) Add more flour if your mixture is too sticky and add more water if the dough is crumbling and not holding together. Knead the dough by hand until it is smooth and elastic.
On a floured surface, use a rolling pin to roll the dough to about 1/4" thickness. Cut out desired shapes with cookie cutters and place on a cookie sheet. Use a toothpick to form a hole at the top of each ornament big enough to thread a ribbon through. Bake at 200 degrees until ornaments are no longer soft and doughy. If the dough begins to darken before cooking is complete, cover the cookie sheet with aluminum foil.
To add color to ornaments, either paint them after they have baked and cooled or mix food coloring into the water before adding it to the dry ingredients. Ornaments can also be decorated with glitter glue after they have been painted. Seal ornaments on all sides with a clear varnish or polyurethane spray.
After ornaments dry, attach them to gift packages with personalized holiday ribbon. Unused dough can be kept in a sealed container in the refrigerator for about two to three days.