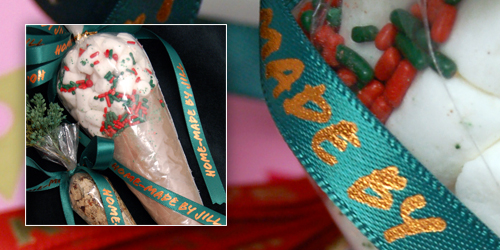 Design & Buy Now: Double Face Satin Ribbon

Great for stocking stuffers, gift baskets, and party favors, hot cocoa mix gifts are a simple and thoughtful holiday gift. Tying these gifts with personalized holiday ribbon creates an imaginative decoration and an added level of care and consideration. The mix gift pictured above has been personalized with a printed gift ribbon that shows who has given the gift. This personal message along with the decorative accent of personalized gift ribbon creates a beautiful and complete holiday gift.
Ingredients:
Powdered hot cocoa mix
Miniature marshmallows
Red & green sugar sprinkles
Pour powdered hot cocoa mix into a large cone bag until bag is about 3/4 full. Place miniature marshmallows and red and green sprinkles in a separate cone bag, filling the bag about 1/4 of the way full. Now set the small bag of marshmallows inside the large bag of mix so that the marshmallows rest on top of the mix. Seal the tops of the bags with a sturdy twist tie.
Attach a tag that includes information about serving sizes and mixing directions. This tag can either be attached with a twist tie or with the final piece of ribbon. Finish your gift by tying a personalized ribbon around the twist tie and creating a bow. Leave a tail of ribbon hanging free so that your message may be read clearly.