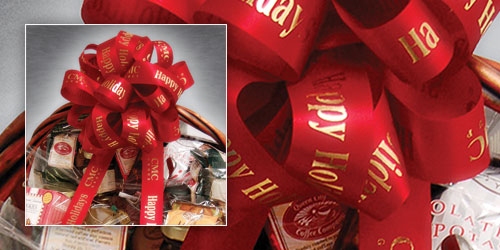 Design & Buy Now: Satin Acetate Ribbon

Although gift baskets are thoughtful and practical gifts, they often are not the most aesthetically pleasing. Custom printed ribbon, however, is a simple and economical way to beautify bland gift baskets. Printed ribbon can be used as a creative and appealing accessory to a gift basket. Pictured here is a corporate gift package decorated with a personalized greeting. This red satin acetate ribbon is printed with a metallic gold holiday message. The custom ribbon is tied into a Pom Pom Bow and attached to the gift basket handle, conveying both a holiday greeting and a message of appreciation.
Gift baskets can also be given for a variety of purposes year round. Homemade gift baskets decorated with personalized ribbon are great for thank you gifts, housewarming gifts, and wedding gifts. To create a homemade gift basket, gather gift items of a common theme or purpose and package them in a gift basket bag or cellophane wrap. Complete your gift basket by creating a personalized ribbon with the message you wish to communicate and tying it in a bow on top of the gift basket.
Contact PrintMyRibbon to place an order for custom printed ribbon for decorating gift baskets. To design custom ribbon online, utilize our convenient design tool by first selecting from our ribbon styles. If you'd prefer to place an order by phone, please call us at 1-888-807-6020. A customer care representative will gladly assist you and will answer any questions you may have about our ribbon or the design and ordering process.
Holiday ribbon is also great for...
Craft projects
Home decorations
Company parties