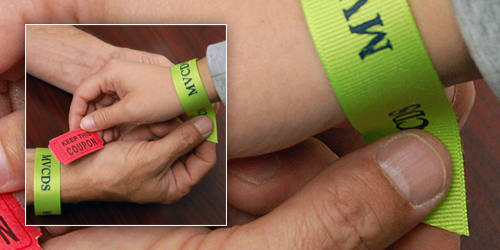 Design & Buy Now: Grosgrain Ribbon

Great for schools, custom ribbon event wristbands are an inexpensive and discrete way to monitor attendance and security at an event. When printed with the school's initials, the event wristband becomes a fun keepsake bracelet rather than a security measure. The event wristbands pictured here were used by a local high school to ensure that only the invited guests attended an event. When guests turned in their tickets, the custom printed ribbons were placed around their wrists.
The ribbon pictured is 7/8" grosgrain ribbon in a bright color for ease of visibility. Event wristbands are easy to attach with double-sided tape. Save time by attaching a piece of double-sided tape to each of the wristbands prior to the event.
To begin designing imprinted ribbons to use as event wristbands, select from our styles of ribbon and use our design tool. If you would like a special order or if you have any questions or concerns, call us at 1-888-807-6020. One of our friendly customer care representatives will be happy to give you personal assistance.
Personalized event ribbon is also great for...
Favors
Decorations
Thank you gifts