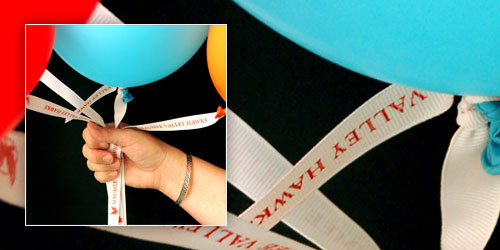 Design & Buy Now: Grosgrain Ribbon

Printed ribbon can be used as a creative balloon tie for a fundraiser or special event. Pictured here are balloon ties that were used by a local high school for a fundraiser. These ties are made of grosgrain ribbon custom printed with the school's name and logo. Custom printed ribbon could also be tied to balloons for a company picnic or a birthday, anniversary, or graduation party.
To make a ribbon balloon tie, fill the balloons with air or helium and knot them at the end. Tie a strand of custom printed ribbon securely around the space between the balloon knot and the balloon. The knot in the balloon will help hold the ribbon in place. We recommend using ribbon widths of 5/8" or narrower so it is easier to tie them around the balloons.
Choose from our ribbon styles and use the online design tool to begin designing custom ribbon balloon ties. If you would like to speak to a customer care representative about any questions, concerns, or special orders, call us at 1-888-807-6020.
Personalized ribbon is also great for...
Hair bows
Event wristbands