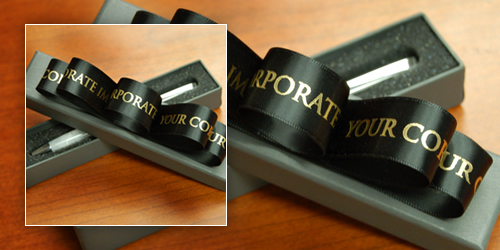 Design & Buy Now: Double Face Satin Ribbon
When developing ideas for planning corporate events, it is important to consider coordinating a token of appreciation for your guests. Event favors do not require excessive expenditure, but they do convey an appreciation of your guests' attendance.
To begin deciding on an event favor, determine what kind of favor would be most appropriate for the type of event you are hosting. For formal corporate events, you may choose to present your guests with a small favor such as an engraved pen. If your budget allows for a larger favor, consider a gift basket filled with products such as gourmet food, wine, or your company's products.
For smaller events like employee recognition banquets, consider personalized favors such as coffee mugs or water bottles with your company name. Other possible favors include gift certificates to local businesses, chocolate treat bags, or themed favors.
Personalized event ribbon is also great for...
Gift packaging
Product marketing