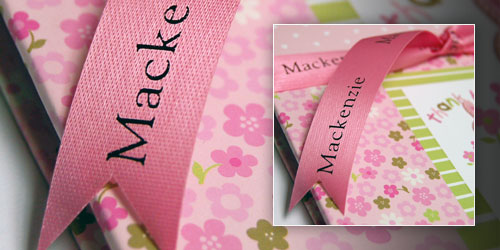 Design & Buy Now: Satin Acetate Ribbon
Baby showers are fun occasions and planning them should also be as fun and stress free as possible. Whether you're throwing a large shower for family and friends or hosting a small gathering, paying attention to certain important details will help your guest of honor feel celebrated and your guests feel welcomed.
The first detail to tackle when planning a baby shower is your guest list. Make it easy on yourself and consult the person for whom you're throwing the shower. She's the best person to tell you who she wants to be there. If the shower is a surprise, ask someone close to her for advice on the guest list. Once your list is finalized and your date is set, send out invitations with as much advance notice as you can offer - preferably about six weeks.
After you've sent out your invitations, start work on planning food. Decide on recipes that are simple, easy to serve, and well-liked by the guest of honor. If you serve a variety of small dishes, people will be able to eat what they like and leave the dishes that aren't their favorite. Be sure to adjust the quantity of food you prepare once you receive RSVPs and have a good idea of the size of the shower.
The next important baby shower planning elements are entertainment and decorations. For entertainment, plan games that are easy to explain and fun for everyone to get involved. Baby-themed games are always a great option. For decorations, you can go as simple or as creative as you like. Whatever decorations you choose, make sure the overall atmosphere is celebratory.
Finally, creative favors are an absolute must for any baby shower. Do something unique, fun, and simple. A great way to add a special touch to baby shower favors is to package them with personalized ribbon. The baby shower favor pictured above is printed with a special message. You can use our design tool to personalize a baby shower ribbon with a baby name, a mom's name, or any other message. View our selection of ribbon styles or our recommended baby shower ribbons to start personalizing.
Personalized baby ribbon is also great for...
Craft projects
Birthday gifts
Holiday decorations