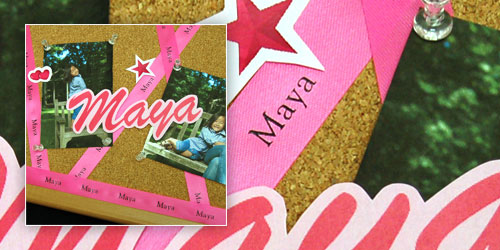 Design & Buy Now: Satin Acetate Ribbon

This inexpensive craft project is an excellent decoration for a kitchen, office, or bedroom. Custom printed ribbon can be affixed to an ordinary corkboard to create a decorative personalized memo and photo board. Use a hot glue gun to attach custom printed ribbon to the corkboard in a crisscross pattern, then cover up the cut ends with a final piece of ribbon around the inside border of the corkboard. Pictured here is a corkboard decorated with 7/8" pink satin acetate ribbon customized with a child's name for her bedroom. Printed ribbon corkboard decorations could also be used in a kitchen or home office as a stylish memo or photo board.
For an extra level of decoration, choose a fabric to complement your custom ribbon and upholster the corkboard with fabric and cotton batting before making the crisscross design. Lay out the design one ribbon at a time, attaching each at the back of the corkboard with hot glue. You can also add buttons to the points of intersection for even more decoration.
Begin designing custom ribbon for a corkboard decoration online by selecting from our ribbon styles and using the design tool. If you have any questions or need assistance customizing your order, contact a customer care representative at 1-888-807-6020. Use extra ribbon to decorate other items such as scrapbooks and shoelaces.
Extra printed ribbon can be used for...
Event decorations
Holiday crafts
Gift packaging