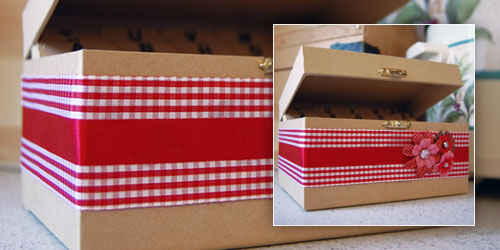 Homemade recipe boxes are a simple craft and creative gift idea. Ribbon can add a decorative finish to an ordinary recipe box. To get started with this craft, select your favorite ribbon style and go to your craft store for some appliques and a small box with a lid.
Once you've gathered your supplies, get out your glue gun and a pair of scissors. Use your glue gun to glue the ribbon around the box. When the ribbon is secured, glue on your appliques. You can also decorate with paints and stickers if you'd like.
To add a truly personal touch to your craft, design a personalized ribbon online. The ribbon pictured on this recipe box is gingham ribbon. Select your favorite ribbon style to start designing. If you have any questions or if you'd like any assistance with your design, please call us toll free at 1-888-807-6020.
Craft ribbon is also great for...
Potted plant decorations
Bakery packaging
Gift basket accents