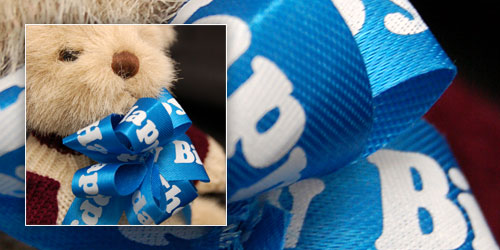 Design & Buy Now: Satin Acetate Ribbon

Birthday ribbon adds a decorative finish to birthday gift boxes and bags and also offers a great solution for wrapping gifts that are difficult to package. Pictured here is a stuffed bear with a Pom Pom Bow made of satin acetate ribbon tied around its neck. With a birthday message and a stylish bow, birthday ribbon is all the gift wrapping this stuffed bear needs.
Birthday ribbon is also a great way to decorate for a birthday party. Ribbon can be used for streamers, favors, table decorations, and balloon ties. Once a birthday is over, use an extra piece of birthday ribbon to create a birthday scrapbook page. More bow-making ideas are available in our Bow-Tying section along with instructions on how to make them.
Place an order for personalized birthday ribbon online. Select from our popular ribbon styles to begin designing a custom printed ribbon. Contact a customer care representative at 1-888-807-6020 if you have any questions or would like personal assistance.
Birthday ribbon is also great for...
Gift bows
Craft projects
Party decorations